Princess Astrid, Mrs Ferner, will turn 80 on 12 February 2012. TM King Harald and Queen Sonja of Norway, will host a dinner in honor of the Princess on her birthday. Among others, TRH Crown Prince Haakon and Crown Princess Mette-Marit of Norway, and Princess Märtha Louise of Norway will be present. In addition, 2 new pictures of the Princess have been released.
HQ: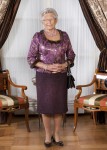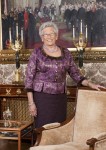 Source: Svein Brimi / Det Kongelige hoff
Princess Astrid married Johan ferner on 12 January 1961 and they have 5 children, Catherine [who is married to Arild Johansen, they have 2 children, Sebastian and Madeleine], Benedikte [who was first married to Rolf Woods, they are divorced, and who secondly married Mons Einar Stange, they are separated], Alexander [who is married to Margrét, née Gudmundsdóttir, they have 2 children, Edward and Stella], Elisabeth [who is married to Tom Beckmann, they have 1 son, Benjamin] and Carl-Christian.