HRH Prince Bertil Gustaf Oscar Carl Eugen of Sweden, Duke of Halland, was born as the 3rd son and 4th child of the late HM King Gustav Adolf of Sweden [then HRH Crown Prince Gustav Adolf, Duke of Skåne] and the late HRH Crown Princess Margaret of Sweden, Duchess of Skåne, née Princess of Connaught [a granddaughter of HM Queen Victoria of the United Kingdom of Great-Britain and Northern Ireland, Empres of India via her 3rd son], on 28 February 1912.
He has 2 older brothers, the late HRH Prince Gustav Adolf, Duke of Västerbotten, the late Count Sigvard Bernadotte of Wisborg [formerly HRH Prince Sigvard, Duke of Uppland], 1 older sister, the late HM Queen Ingrid of Denmark [born HRH Princess Ingrid of Sweden], and 1 younger brother, Count Carl Johan, Bernadotte af Wisborg [formerly HRH Prince Carl Johan, Duke of Dalarna].
The Prince wanted to marry Lilian Davies, former married name Craig, however, his oldest brother died leaving only a 1 year old son as his heir (and 4 daughters who were not in line to the throne), and his second oldest brother had already given up his place in the line of succesion to the Swedish throne. If the Prince had married Lilian then, he would have had to give up his place in line to the Swedish throne and leave the future of the Swedish Monarchy on the then 1 year old Crown Prince. The Prince lived with his true love for over 30 years, until the Prince could finally marry Lilian.
After the nephew of the Prince, the current HM King Carl Gustav of Sweden, married a commoner, the King approved the marriage of Prince Bertil and Lilian Davies. The wedding took place on 7 December 1976 and Lilian received the titles Princess of Sweden and Duchess of Holland with the style of Royal Highness.
The Duke of Halland died on on 5 January 1997.
HQ picture: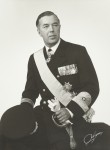 Source: kungahuset.se