There was a photoshoot with TRH the Duke and Duchess of Vendôme, Prince Jean and Princess Philomena of Orléans, and their children, HRH Prince Gaston and the newborn HRH Princess Antoinette on 9 February 2012.
HQ pictures: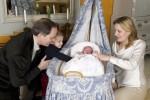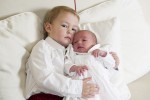 The christening of Princess Antoinette Leopoldine Jeanne Marie took place on 11 February 2012.
A HQ picture of the Princess and her paternal grandmother, HRH the Duchess of Montpensier, née Duchess of Württemberg: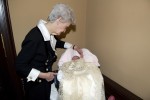 Source: princejeandefrance.fr
More pictures of the photoshoot and the christening can be found at Newscom
HERE
.
(Search: "Princess Antoinette of Orleans")