Insignia in the chapel during the wedding of HRH Princess Madeleine of Sweden, Duchess of Hälsingland and Gästrikland, and Christopher O'Neill.
Crown and cushion
To the left of the altar stands Princess Hedvig Elisabeth Charlotta's crown, dating from 1778. The same crown stood at the baptismal font when Princes Madeleine was christened.
The crown was made in Stockholm in 1778 by an unknown maker. The crown is made from gold with engraved decoration, and is set with pearls and precious stones. The current cap is dark blue satin silk with gold leaf decoration, and was made in the 19th century.
The crown is placed on a cushion from the wedding of King Gustav IV Adolf and Fredrika Dorotea Wilhelmina in 1797.
HQ picture of the Crown: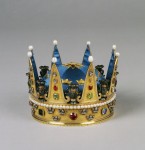 Picture: Alexis Daflos, Kungl. Hovstaterna
The Seraphim standard
The Seraphim standard dates from 1810, and stands to the left of the altar.