TRH Crown Prince Haakon and Crown Princess Mette-Marit of Norway, HRH Princess Ingrid Alexandra of Norway, Prince Sverre Magnus of Norway and Marius are on a trip from the end of November 2010 till the end of January 2011. The goal of this trip is to meet people and to learn about countries and cultures as a family. They have asked to be left alone on this trip.
To view a video, click
HERE
.
A HQ picture of the Crown Princely family in front of the Hagia Sofia in Istanbul:
A picture of Princess Ingrid Alexandra in Rajasthan, India: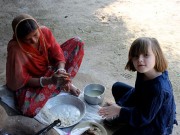 There are more picturess at the official website. Click
HERE
and scroll down, to see them.
Source: The Royal House of Norway