A look back at a Royal 2010.
In January, Prince Manuel and Princess Anna of Bavaria, neé Princess of Sayn-Wittgenstein-Berleburg, had their second child and first daughter, Princess Alva. Their first child, Leopold, was born in 2007. Princess Majeedah of Brunei gave birth to her and her husbands, Khalil Pengiran Syed Hj Jaafari, second child, a daughter named Raihaanah. Their first child, Abdul Hafeez, was born in 2008. Of course there isn't only happy Royal news. Fürst Alfred-Ernst of Löwenstein-Wertheim-Freudenberg died in January.
In February the Duchess of Cornwall became a grandmother for the fifth time, her son, Tom, had his second child and first son, named Freddy. Tom and his wife, Sara, are also parents to a daughter, Lola, who was born in 2007. In addition, the Duchess of Cornwall is also grandmother to Eliza, born in 2008, and twins Gus and Louis Lopes, born in 2009, children of her daughter, Laura and her husband, Harry Lopes. Harry Lopes is the heir of his (childless) uncle, Henry Lopes, Baron Roborough. Archduchess Regina of Austria, the wife of the last Crown Prince of Austria and who suffered from a heart disease, died. If Austria was still an Empire, she would have been the Empress.
In March, Archduke Carl Christian and Archduchess Estelle of Austria had their second daughter, archduchess Anežka. Their first daughter, Zita, was born in 2008.
In April, Sheikha Hind bint Hamad bin Khalifa Al Thani of Qatar, the daughter of the Emir, married Sheikh Faisal bin Thani Al Thani of Qatar.
In May, Princess Maria Anna of Bavaria, Duchess in Bavaria, and her husband had their first child, Heinrich. The Duke and Duchess of Anjou, Prince Louis Alphonse and Princess María Margarita, had their second and third children, Prince Louis, the Duke of Burgundy, and Prince Alphonse, the Duke of Berry, who joined their first daughter, Princess Eugénie. The Earl and Countess of Ulster, Alexander and Clair Windsor, had their second child and first daughter, Lady Cosima Windsor on May 20. They were already parents to Xan, Lord Culloden. The Earl of Ulster is first in line to succeed to the Dukedom of Gloucester. Princess Nathalie of Sayn-Wittgenstein-Berleburg married Alexander Johannsmann civilly. Their religious wedding is to take place in 2011. Prince Léka van Albania and Elia Zaharia got engaged in May. Archduke Rudolph of Austria died May 15, while Grand Duchess Leonida Georgievna of Russia, born Princess of Bagration-Moukhransky, died May 23.
Crown Princess Victoria and Prince Daniel at their wedding day. *
In June, the long awaited wedding between Crown Princess Victoria of Sweden and Daniel Westling took place. Many European and Non-European Royals attended and Princess Ingrid Alexandra of Norway, Princess Amalia of the Netherlands and Prince Christian were among the 10 bridesmaids and page boys. Just after the wedding of Crown Princess Victoria, Prince Albert II of Monaco announced his engagement to Charlene Wittstock, his girlfriend of over 4 years, whom he had brought to the wedding of Crown Princess Victoria. More Royal wedding news, Prince Ferdinand of Lippe-Weissenfeld married Princess Auguste of Bavaria. There was also baby news from the British Royal family, Lady Davina and Gary Lewis had their first child together, Senna. Gary already has a son, Ari, from a previous relationship. As always, there isn't only good news. June also brought the divorce of the Sultan of Brunei and the former Princess Azrinaz.
In July, Prince Rashid bin Hassan of Jordan and Zaina Shaban got engaged, Lady Rose and George Gilman had their first child, named Lyla.There was more baby news in July, Sheikh Nasser bin Hamad Al Khalifa of Bahrain and his wife, Sheikha Sheikha bint Mohammed al Maktoum of Dubai had their first child, Sheikha Sheema. Sheikh Nasser is the son of the King of Bahrain, while the Emir of Dubai the father of Sheikha Sheikha is. Duchess Fleur of Württemberg and her husband, Count Moritz of Goëss had their third child, Countess Livia. The couple was already parents to Zeno, born in 2004, and Flaminia, born in 2006. Princess Nathalie of Sayn-Wittgenstein-Berleburg and Alexander Johannsmann had their first child, Konstantin.
Prince Nikolaos and Princess Tatiana at their wedding day. *
In August, Crown Prince Frederik and Crown Princess Mary of Denmark announced that they are expecting twins, their third and fourth child, in January 2011. They are already parents to Prince Christian and Princess Isabella. August also brought the wedding of Prince Nikolaos of Greece and Denmark and Tatiana Blatnik, and the death of the Duke of Parma and Piacenza, Prince Carlos Hugo of Bourbon-Parma.
In September, Fürst Friedrich Wilhelm of Hohenzollern died.
In October, both the Emir of Ras Al Khaimah, Sheikh Saqr bin Mohammed Al Qasimi, and Princess Irmingard of Bavaria, daughter of the last Crown Prince of Bavaria, died.
In November, Prince William of Wales, second-in-line to the British throne, announced his engagement to Catherine Middleton. The couple have been together for over 7 years and the wedding is set for April 29, 2011.
The engagement pictures of Prince William and Catherine released by the court. *
There was more Royal wedding news in November, the Duke of Parma and Piacenza, Prince Carlos of Bourbon-Parma married religiously, Annemarie Gualthérie van Weezel. The civil wedding took place in June, but the religious wedding had to be postponed due to the death of the father of the groom. There was more Royal news then wedding news in November, Fürst Philip and Fürstin Saskia of Hohenlohe-Langenburg had their third child and first daughter, Princess Marita. The couple was already parents of Max and Gustav.
It was announced on November 4, that the Crown Princely family of Norway is to go on a trip abroad from the end of November 2010 till the end of January 2011. The goal of this trip is to meet people and to learn about countries and cultures as a family.
In December, the Princess Royal announced the engagement of her daughter, Zara Phillips, to Mike Tindall. No date has been announced for the wedding, but it's likely to take place in 2011. This engagement was not the only joyful event for the Princess Royal to announce. The son and daughter-in-law of the Princess, Peter and Autumn Phillips, had their first child, a daughter named Savannah, on December 29.
Hereditary Count Ignatius and Hereditary Countess Robinia of Toerring-Jettenbach had their fourth daughter, Elena, on December 28. They are already parents to Floriana, Georgiana and Elisabeth.
December was also the month of new pictures. The Duke and Duchess of Brabant, Prince Philippe and Princess Mathilde of Belgium, released new pictures of them and their children, Princess Elisabeth, Prince Gabriel, Prince Emmanuel and Princess Eléonore, on December 15.
HERE
Crown Prince Haakon and Crown Princess Mette-Marit of Norway released pictures of Princess Ingrid Alexandra, Prince Sverre Magnus and Marius. Meanwhile, the Prince and Princess of Orange, Prince Willem-Alexander and Princess Máxima of the Netherlands choose to hold a photo shoot with their daughters, Princess Amalia, Princess Alexia and Princess Ariane. The Spanish Royal family released their Christmas cards and the Danish Christmas cards also showed up in the media.
Source: Casa de Su Majestad el Rey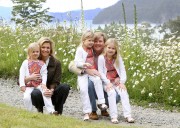 Source: The Royal House of Norway & the RVD
December also brought the marking of the birth of the Kings mother, the Countess of Barcalona, Princess Maria de las Mercedes, 100 years ago. The King and Queen, with their children, children-in-law and grandchildren attended a mass to celebrate this.
There was of course much more Royal news in 2010, including many State Visits and official visits. It would be to much to list it all.
(*Images via PicApp)